Westbo Victoria wood burning stove
Description
A new wood burning stove from Westbo, the Victoria is made from cast iron and is subtely accented with beautiful Swedish Jugendstil or Art nouveau ornament. This decor and the traditional styling are combined with a large viewing window that extends to the sides to give a stunning wide angle view of the flames. 
There are 2 versions of the Victoria: The 100 with a heat output of 5kW and the 125 with a heat output of 8kW.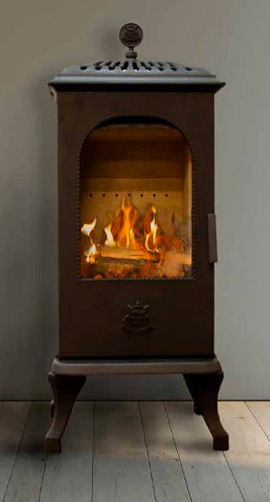 With its portrait format the stove makes a unique feature in any room and is both beautiful and practical. The crown of the stove is removable, hiding a hot plate beneath for heating casseroles or boiling a kettle.

County Woodburning Centre's comments on the Westbo Victoria
We like to use it as an additional source of heat in the kitchen while extending our hob cooking area with space for 2 pots.
The Westbo Victoria has a mid-range heat output of 6kw and will heat a room up to 180m³. The stove will burn wood and wood briquettes and will take a log length up to 35cm. The stove can be connected to external combustion air by it's rear flue.
The Westbo Victoria carries on a rich tradition of cast-iron stove manufacture in Sweden and carries a ten year warranty.
Key Features
Decorative crown at the top of the stove is removable and hides a hot plate that will heat a kettle or casserole.
Large, 3 sided viewing window.
Burns wood and wood briquettes.
Options
Colours: Black painted.
With/without decorational elements.


Westbo Victoria links
FUEL TYPE
Wood burning
EFFICIENCY %
80%
HEAT OUTPUT
5kW (100)
8kW (125)
DIMENSIONS
Height - 1012mm (100)
1259mm (125)
Width - 425mm (100)
522mm (125)
Depth - 395mm (100)
483mm (125)
FLUE SIZE
150mm rear
MATERIAL
Cast-iron
WEIGHT
170Kg
MAX LOG LENGTH
330mm approx (100)
370mm approx (125)