Westbo Classic wood burning stove
Description
The classic Swedish Woodburner. A Stylish and elegant but ultimately, efficient and practical heat source that has been heating Scandinavian homes for over 100 years.

The first iron foundries to manufacture the Classic's predecessors was on the small island of Bornholm, south of Sweden around 1890. The efficient and popular stove soon found it's way into Swedish homes.

The Westbo Classic has a heat output of 7kW and will burn wood logs, wood briquettes and coal. An ornate viewing window at the base of the stove affords a unique view of the flames.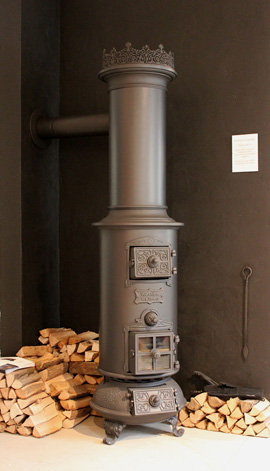 While the design of the Classic is taken from the early stoves, the furnace uses the latest technology giving extremely powerful heat distribution. This capacity for thermal output combined with its environmentally friendly combustion contribute to a high efficiency rating of 81%.


County Woodburning Centre's comments on the Westbo Classic
distinct chimney design which ensures efficient heat circulation and retention.
Westbo have stayed true to the traditional, heat retaining qualities of cast-iron which forms the core of the Classic, combined with a steel sheath. This design ensures that air circulates between inner and outer casings allowing heat to spread quickly.  An optional heat magazine of olivine stone is available for further heat retention.
Key Features
Available in a choice of colours: Matt black and painted enamel: white, green, red, blue.
Burns wood, wood briquettes and coal.
Outer Sheath: Cast-iron
Inner Sheath: Enamelled sheet steel.
Optional crown.
Gross heat output: 4 - 8kw
Options
Colours: Black painted or enamelled.
Optional 35kg olivine stone heat storage.
Westbo Classic wood burning links
FUEL TYPE
Wood burning / multi fuel
EFFICIENCY %
81%
HEAT OUTPUT
7kW
DIMENSIONS
Height - 2060mm (with crown)
1960mm (without crown)
Width - 525mm
Depth - 525mm
FLUE SIZE
130mm top and rear
MATERIAL
Steel
WEIGHT
245Kg
MAX LOG LENGTH
330MM approx