Westbo Ankarsrum wood burning stove
Description
The Ankarsrum or Assistant is a perfect addition to any kitchen as this traditional Swedish stove is only 30cm in width, includes a cooking plate and is a comforting source of additional heat in the home.

The stove burns wood, wood briquettes and coal and has a heat outpuut of 8kW.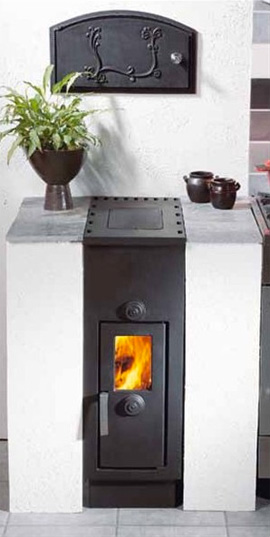 A practical and handsome household help that will add nostalgic charm to your cooking space, this space-saving side oven is made of cast iron which continues a 150 year history of stove building in Sweden.
County Woodburning Centre's comments on the Westbo Ankarsrum
We like to use it as an additional source of heat in the kitchen while extending our hob cooking area with space for 2 pots.
The Ankarsrum is a robust and dependable kitchen warmer that will last for a generation or more. Sturdy, efficient and slim, based on the traditional Scandinavian side stove, the Ankarsrum can be used both as a complementary heat source in the kitchen while extending your cooking range with space for 2 pots. 

The flame window affords a warming view of the flames and the stove takes a maximum log length of 35cm, with enough room in the stove box to keep the fire in for extended periods. Used independently the cooking plate allows 2 pot cooking without electricity.
Key Features
Stove window in the furnace door.
Only 30cm wide.
Burns wood, wood briquettes and coal.
2 pot cooking plate.
Options
Colours: Black painted.
Ornametal version in the Judgenstil style of the early twentieth century and reads 'Ankarsrum 30'.


Westbo Ankarsrum links
FUEL TYPE
Wood burning / multi fuel
EFFICIENCY %
75.2%
HEAT OUTPUT
8kW
DIMENSIONS
Height - 330mm
Width - 550mm
Depth - 520mm
FLUE SIZE
130mm top and rear
MATERIAL
Cast-iron
WEIGHT
135Kg
MAX LOG LENGTH
350mm approx